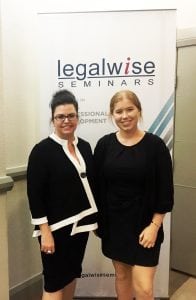 Working harder has always been considered a badge of honour in professional circles that is associated with expectations around organisational performance. However current research has shown that professionals who work 11 hours a day or more have a higher risk of depression and have increased risk of heart disease by 41% (American Heart Association, 2016)
A more recent mantra has become work smarter, not harder, with the thinking being that it is more beneficial for individual and organisational productivity and performance.
Recently Helen Wood (CEO of TMS Consulting) provided a broad cross section of the legal sector in Queensland and Victoria with solutions to create the right culture for working smarter. The seminars covered a range of professional development areas for the lawyers in attendance. Helen's presentation focussed on smart work practices and creating the right culture to enhance performance while alleviating burnout or fatigue.
Participants were challenged to think about their own approach in the workplace and the latent power and productivity that might be tapped into if they were to challenge the traditional working environments and conditions that exist in most law firms. Working smarter is a by-product of this collective goals and responsibilities, driven by the firm's organisational culture. With this information, participants were provided with strategies on working smarter, such as:
+   Collaboration
+   Communication
+   Delegation
+   Effective leadership
+   Engagement
+   Clarity of deliverables
+   Performance Management
For more information about working smarter, please contact TMS Consulting at solutions@tmsconsulting.com.au