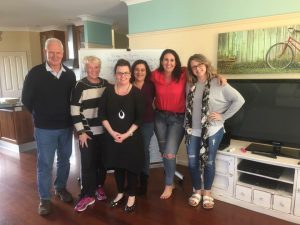 Recently, CEO and Executive Consultant, donated her time to 'Share the Dignity' by facilitating a strategic planning workshop with the Share the Dignity Board and Founder, Rochelle Courtenay.
Following significant growth since the charity's inception in 2015, the Share the Dignity Board made time to reflect on and consider the strategic direction of the charity.
With Helen's support and facilitation, the Board developed their first strategic plan which outlines the charity's vision, purpose, commitment, values and strategic objectives.
Share the Dignity is an Australian not-for-profit which seeks to provide vulnerable people who are homeless or in difficult situations with the dignity of basic life necessities including the provision of sanitary items for homeless women.
After meeting Rochelle, and being very impressed with what the organisation has achieved, Helen was thrilled to continue TMS' support for Share the Dignity. As the Chair of the Board of Brisbane Youth Service, Helen is acutely aware of the challenges many homeless and vulnerable people face in their daily lives and is excited by the work Share the Dignity is doing to address some of these issues.
"I was very excited to help out and grateful for the opportunity to contribute in a small way to what this amazing group of people are doing. Rochelle's energy is contagious and it was a great experience to be involved!"
If you would like more information on Share the Dignity or would like to contribute, please go to www.sharethedignity.com.au.