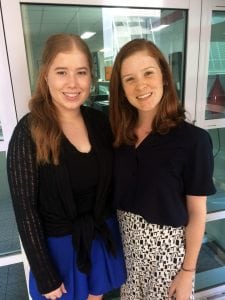 TMS is excited to welcome to the team our newest members – Support Consultants, Margie Quill and Clare Gross.
A bit about them…
Margie is currently studying a Bachelor of Business with a major in Management and a minor in Economics. Her willingness to always learn something new and her genuine motivation to see clients improve their organisation from the work that we do with them will be a valuable asset to TMS. She is passionate about working with organisations to achieve organisational success through the implementation of:
 +       Organisational strategy and capability principles
 +       Leadership, culture and team development
 +       Health, safety and wellbeing objectives.
Margie has experience in working with organisations that look to implement a strong organisational culture and has a specific interest in the area of safety and fatigue management.
Clare is also studying a Bachelor of Business but with a major in Economics and a minor in Management. She has a keen interest in team development and organisational change, with a particular focus on performance management and organisational culture. Among other things, she looks forward to bringing her positivity and creative problem-solving skills to TMS. Clare incorporates her analytical approach to problem-solving in order to add value to all projects and is passionate about ensuring clients' goals are achieved and their expectations are surpassed.
Why they chose TMS…
When asked why she wanted to work with TMS Margie said "From the moment I walked in, I loved the positive culture of the organisation, which was reflected in the warm nature of its members and immediately wanted to be a part of the team. The work that TMS offers to their clients is exactly what I am passionate about and want do in my career, so it felt like a perfect fit!" She looks forward to increasing her knowledge and skill base within the different areas of TMS, particularly in leadership, culture and teams; organisational strategy and capability; and health, safety and wellbeing. She also looks forward to working with clients from many different workplace environments.
Clare said "I initially wanted to work with TMS, not only because of the amazing opportunities that this role will afford me but, because I was keen to contribute to all of the wonderful work that the TMS team do. Being a part of such a welcoming and knowledgeable team makes the work we do and my working day so enjoyable." She looks forward to working on a wide variety of projects from all sectors and building a relationship with all her clients.