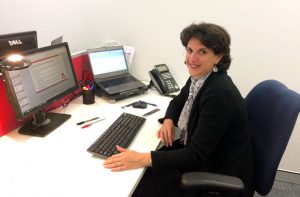 TMS is pleased to welcome Trish Cloete into the team as our new Principal Consultant and Psychologist.
Trish is a registered psychologist and brings over fifteen years of consulting experience in the field of organisational development. She obtained her Master's degree (Organisational Psychology) in South Africa and has worked closely with a range of diverse public and private sector organisations over the years.
Having partnered with a number of high-profile management consultancies since moving to Australia six years ago, Trish is passionate about developing quality solutions that meet the unique needs of clients and believes in bringing a personal touch to projects. She has been extensively involved in the design and implementation of bespoke client solutions, including transformational change management, organisational diagnostics, leadership development, and facilitation.
When asked why she chose to work at TMS, Trish said that she was drawn to the "inspiring, person-centred culture of TMS" as it resonates strongly with her own values. She is looking forward to "forming close connections with colleagues and clients alike" and is "ready to embark on an exciting, varied journey with TMS".
We look forward to working with Trish to make the future for our clients that little bit brighter every day.